EUR Live : Call for Doctoral Scholarships 2022-2025
At the crossroads of health/biology, social and environmental sciences, LIVE (LIfe trajectories and health VulnErability) aims to combine the know-how and research inputs to address the vulnerability in all its facets by creating a new Graduate School, at the heart of one of the most vulnerable areas of south-east of Paris. In partnership with INSERM and CNRS, LIVE offers advanced research programs with a solid transdisciplinary, transcultural and international scope. The Research Ministry of France supports LIVE (ANR-18-EUR-001) as part of Graduate Schools of Research (EUR). Join us to overcome the fragmented approach to vulnerability in healthcare, socio-economic environment, and environmental exposure.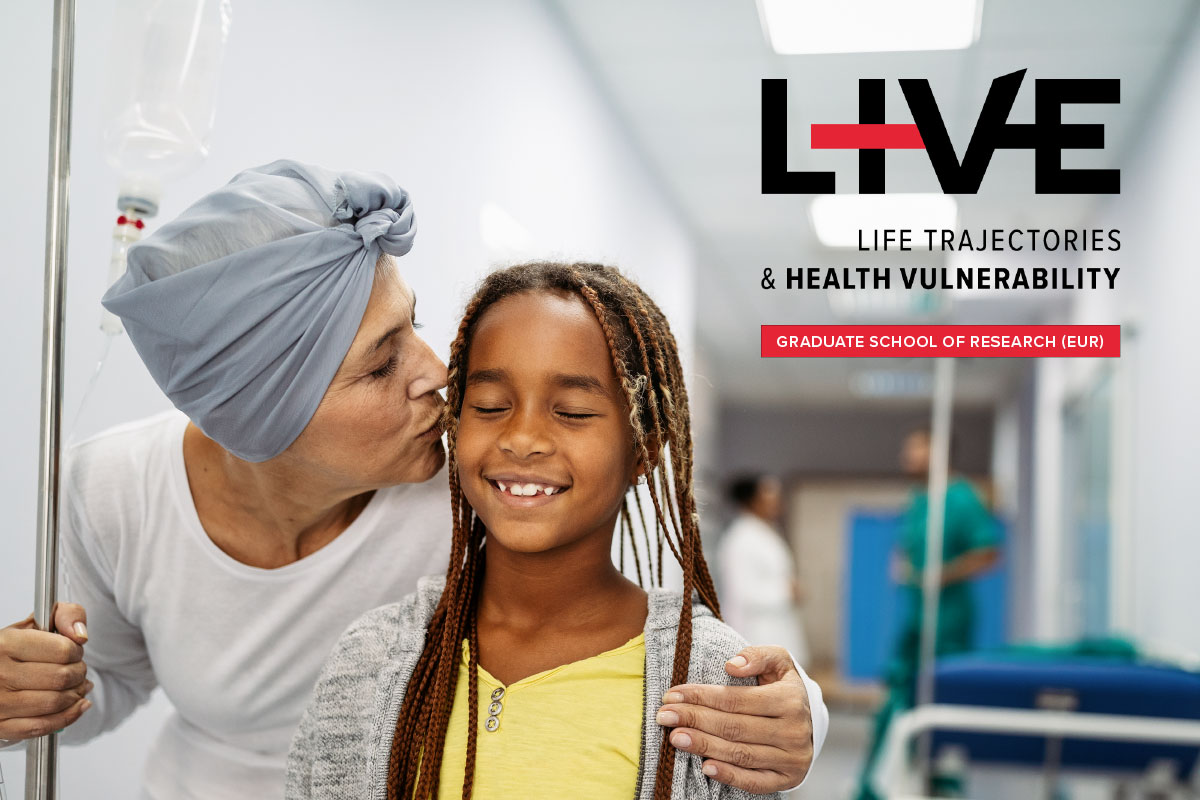 Date(s)
du 5 avril 2022 au 16 mai 2022
Studying Vulnerability in Health with an inter disciplinary approach
The vulnerability relies on multiple factors (health, environmental, social, economic, political and cultural conditions), depending on their interaction at a given time point and across the life course.
LIVE Graduate School will address three crucial needs :
a permanent structure to carry out multiscale, multidisciplinary research and teaching on vulnerability
a clear and solid integration in the health sector
a continuum between academic research and "real life" to enable innovation and tackle vulnerability.
LIVE benefits from specialists of health economics, public health and ageing, and a unique multidisciplinary consortium studying the impact of environmental pollution on health (physics, chemistry, engineering, environmental & biological science, developmental biology, psychiatric disorders, cardiovascular & respiratory pathophysiology and bioinformatics).
LIVE looks to contribute in overcoming the fragmented approach to vulnerability-based in :
a two-year master's program (click here to see the list of associated masters) combining teaching & research will prepare a new generation of students to face the current unaddressed challenge of vulnerability and to pursue a career in national and international health and public health agencies as well as in private companies
a Ph.D. program (click here to see the list of associated Doctoral Schools) developing cutting-edge research in the field of vulnerability
LIVE gathers three pillars (each of which has a longstanding reputation for cutting-edge research results), proposing an innovative transdisciplinary integration to address the issue of vulnerability :
1) the broad umbrella of health and biology research, which relies on recognized expertise in the field of age-related cardiac and lung diseases, infectious diseases, psychiatric disorders and rare diseases
2) the expanding field of research on vulnerability with economics and public health
3) the insights coming from the environmental determinants (air, water, soil quality, environmental hazards, pollution, contaminants and toxins) impact health.
In addition, LIVE aims to develop a robust transversal unit in two key areas: the social dimension of vulnerability (with training in geography and social sciences) and new methods to explore vulnerability in the coming years (big data, artificial intelligence, modeling and bioinformatics).
We rely on strong international networks to ensure the worldwide recruitment of students.

Why study Vulnerability
Vulnerability is particularly important in the field of health and well-being. Vulnerability is linked to multiple factors and depends on their interaction both at one time and throughout life.
Advancing knowledge on vulnerability thus requires expertise in health, economics and environmental sciences in order to consider health, environmental stressors and socioeconomic inequality from a lifetime perspective. A broader perspective on vulnerability assessment implies to conduct a multidimensional, multilevel and multidirectional analysis and to integrate the work of several fields.

MASTER
The EUR-LIVE programme gives Master students the opportunity to :
Acquire a shared scientific culture, despite their diverse disciplinary background.
Make up their own fl exible curriculum with additional courses on vulnerability.
Benefit from a close transdisciplinary supervision from multiple tutors related to two disciplinary fields or more.
Conduct individual research project across two disciplines at UPEC laboratories and other academic or non-academic partners.
Doctorate
International & interdisciplinary
At the doctoral level, EUR-LIVE in association with UPEC's Doctoral Schools encourage mobility with financial support for internships or grants for research projects.
EUR-LIVE will update programmes regularly based on its alumni feedback to ensure optimal professional integration.
EUR-LIVE will enhance pedagogical exchanges between different UPEC departments, collaborating with academic and non-academic partners.
Graduating from UPEC Doctoral Schools, EUR-LIVE PhD students will achieve their research in co-direction with other universities (national or from abroad).
HOW TO APPLY : Eligibility & selection criteria
High potential students will be selected among UPEC and other national and international universities.
All candidates must complete a formal application, including:
Curriculum vitae
Academic transcript (two last years)
Ph.D project (up to 5 pages) including the following topics: Problematic, Literature review, Ph.D Originality, Methodology, References.
Academic references are welcome
> Download the Call for a Doctoral Scholarship in Health & Environment (H&E 2022-2025)
> Download the Call for a Doctoral Scholarship in Health Economics & Public Health (HE&PH 2022-2025)
> Download the Call for a Doctoral Scholarship in Health & Biology (H&B 2022-2025)
The examination takes place in two steps: a selection based upon application and an interview (only shortlisted candidates). Selected candidates for interview will be notified by e-mail.
Grant's Calendar
Submissions open : April 5th, 2022
Deadline for applications : May 16th, 2022
Decisions on acceptance : July 2022
Start of Ph.D. : October 2022

The examination takes place in two steps : a selection based upon application and an interview (only shortlisted candidates). Selected candidates for interview will be notified by e-mail.
Contacts
Health & Environment pilar :
Prof. Isabelle Coll, MSc, PhD
Unit Research: LISA UMR 7583
isabelle.coll@u-pec.fr

Prof. Geneviève Derumeaux, MD, PhD
Unit Research: IMRB U955 - INSERM
genevieve.derumeaux@inserm.fr

Health and Biology pilar (Unit Research: IMRB U955 - INSERM) :
Prof. Sophie HUE, MD, PhD
sophie.hue@aphp.fr

Prof. Pascale FANEN, MD, PhD
pascale.fanen@u-pec.fr

Health Economics and Public Health :
Prof. Thomas BARNAY, MSc, PhD (ERUDITE)
barnay@u-pec.fr

Prof. Florence CANOUI-POITRINE, MD, PhD (IMRB U955 – INSERM)
florence.canoui-poitrine@aphp.fr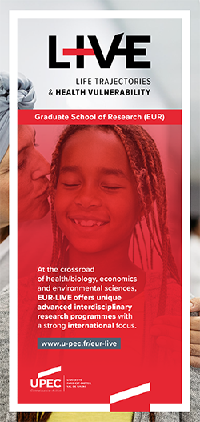 > Download the leaflet